THE POLICEMAN OF SECRETS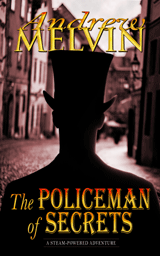 The Policeman of Secrets tells the story of the latest mission for Count Balthazar, a gentleman adventurer and all-round rogue renowned for his ability to protect, or 'recover' (in whatever manner necessary), secret information.

DETAILED SYNOPSIS
In a vivid world of steampunk and sensuality, the psychopathic members of the Arcanum plot to overpower whole countries - but they can only succeed by defeating the irrepressible Count Balthazar, a master at stealing and protecting secrets. He launches into an adventure involving rooftop chases, hijacked airships, a giant train, and surprise twists and betrayals. To survive, he must overcome the beautiful and deadly Elizabeta. Driven by violence and lust, she has ambitions of her own that will surprise everybody.

The Policeman of Secrets is a romp that races from a backstreet bookshop and secret lairs to a strange gentlemen's club and a battle in a royal palace to decide the empire's fate. Along the way it gives Victorian history a refreshing, erotic, and steam-powered spin.
KEY CHARACTERS
Count Balthazar
|
Solomon Snow
|
Elizabeta
|
Lord Stone
Besides them, the tale of the fight to stop the Arcanum introduces the determined and imaginative members of the Workshop of Light, the ruthless inquisitor Doctor Flair and his assorted machines, an asylum administrator who believes the clue to madness is all in the eyes, and many more. All will be tested, and some sacrificed, in the battle to free the minds of millions - or turn them into slaves.

To download a free PDF of the first four chapters, click here.

Note: if you are new to steampunk and its world of steam-powered stories, see the Links page for more details.
BUY THE BOOK
PAPERBACK: Amazon US | UK | CA || Barnes & Noble


EPUB (iPad, Nook, Kobo, etc.): Apple | B&N | Smashwords | Kobo


PDF, RTF, plain text, etc.: Smashwords