THE MISCHIEF OF RATS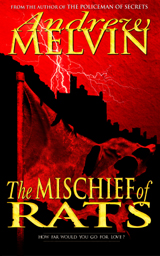 The Mischief of Rats, which is available now as an e-book and paperback, is a fantasy adventure in which a mercenary general finds himself in a life-or-death struggle to save his two kidnapped children.

You can watch the trailer by clicking on this link.

DETAILED SYNOPSIS
Mercenary general Shard Harken has spent his life on battlefields for other people, but now he fights for himself. When his children are kidnapped, he is forced into the deadly courts and halls of Peak, the greatest and richest city in the Fallen Quarter.

Within its 100 floors, thousands struggle for survival and for wealth, all hoping to leave the dark low floors for the upper levels and a life of clean air, light, and warmth.

Faced with a dangerous and skilled opponent, Harken must call on help from a handful of friends willing to challenge the powerful guilds, the mysterious Bone Men, and the ruthless Lord Magnus.

As Harken's search takes him deep into the city, Magnus and his beloved Veil, the last surviving mystic, prepare the final stages of their life's work, a deadly plan that may exact a terrible price.

A tale of love and violence in a dangerous and unique city, The Mischief of Rats sees a father risk everything on a mission that could change the world.


MORE INFORMATION
The setting of the Mischief of Rats
An introduction to the key characters
To download a free PDF of the first four chapters, click here.

BUY THE BOOK
PAPERBACK: Amazon US | UK | CA


EPUB (iPad, Nook, Kobo, etc.): B&N | Smashwords | Apple | Kobo


PDF, RTF, plain text, etc.: Smashwords